Automate Everywhere, Secure Everything Seminar
Date: 20 Sep 2018 @ 1:30 pm
Venue: Four Seasons Hotel Hong Kong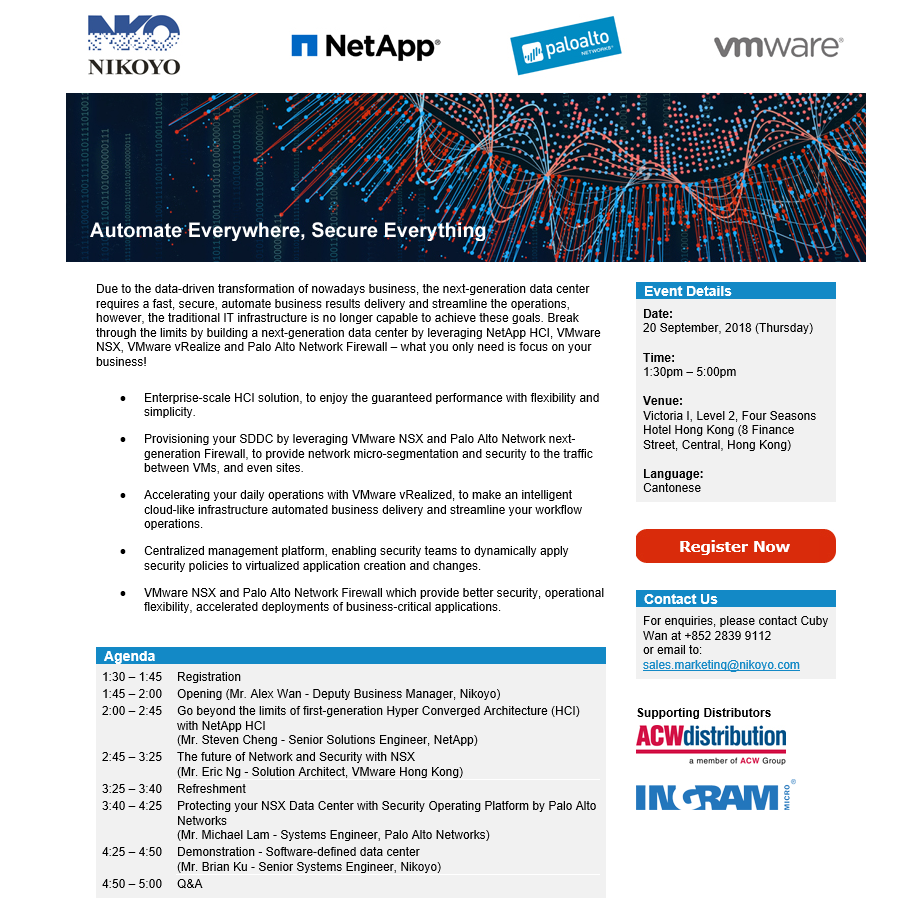 Due to the data-driven transformation of nowadays business, the next-generation data center requires a fast, secure, automate business results delivery and streamline the operations, however, the traditional IT infrastructure is no longer capable to achieve these goals. Break through the limits by building a next-generation data center by leveraging NetApp HCI, VMware NSX, VMware vRealize and Palo Alto Network Firewall – what you only need is focus on your business!
Agenda
1:30 – 1:45 Registration
1:45 – 2:00 Opening (Mr. Alex Wan – Deputy Business Manager, Nikoyo)
2:00 – 2:45 Go beyond the limits of first-generation Hyper Converged Architecture (HCI) with NetApp HCI (Mr. Steven Cheng – Senior Solutions Engineer, NetApp)
2:45 – 3:25 The future of Network and Security with NSX (Mr. Eric Ng – Solution Architect, VMware Hong Kong)
3:25 – 3:40 Refreshment
3:40 – 4:25 Protecting your NSX Data Center with Security Operating Platform by Palo Alto Networks (Mr. Michael Lam – Systems Engineer, Palo Alto Networks)
4:25 – 4:50 Demonstration –  Software-defined data center (Mr. Brian Ku – Senior Systems Engineer, Nikoyo)
4:50 – 5:00 Q&A
Tickets are not available as this event has passed.